Whether you're a founder, mentor, investor or service provider in the Alberta tech community –  we all play a role in providing a safe and inclusive place to work and volunteer. 
While there is greater dialogue today in the global tech community on bullying, abuse, harassment and discrimination, we know incidents continue to occur without reporting.  
To help build a safer, inclusive tech community, a new online incident reporting program has been launched to support anonymous reporting of any incidents that make someone feel unsafe or unwelcome. It can be accessed 24 hours a day, 7 days a week at StartAlberta.ca/REES.
Who made this program possible? This initiative is led by the A100, and supported by Alberta Enterprise Corporation, Platform Calgary, Edmonton Unlimited, Venture Capital Association of Alberta, and ThresholdImpact Venture Mentoring Service.
As the lead sponsor of the program, the A100 will work with the Calgary-based team at Osler, Hoskin & Harcourt LLP to develop a process for sharing and communicating the anonymous quantitative data with the program partners to help identify trends and inform prevention efforts.
Alberta is the first tech ecosystem in Canada to implement an incident reporting tool of this kind and we welcome more tech ecosystems to follow.
How does it work?
The online incident reporting is powered by REES (Respect, Educate, Empower Survivors), a leading third-party platform to report bullying, abuse, harassment and discrimination. REES considers privacy in all aspects of its software design, strives for compliance with the General Data Protection Regulation (GDPR) and is developed using the principles of Privacy by Design. All Data is stored in Canada.
The platform also offers helpful resources and supports such as contact information for sexual assault centres, healthcare and other support services.
This program does not replace existing HR policies or processes within Alberta tech organizations (not for use by employees about workplace incidents) but aims to understand any incidents occurring at public events or when founders, mentors, investors, service providers or other community supporters gather or interact. Anonymous reports submitted are strictly quantitative in nature and the data will not initiate investigation or recourse.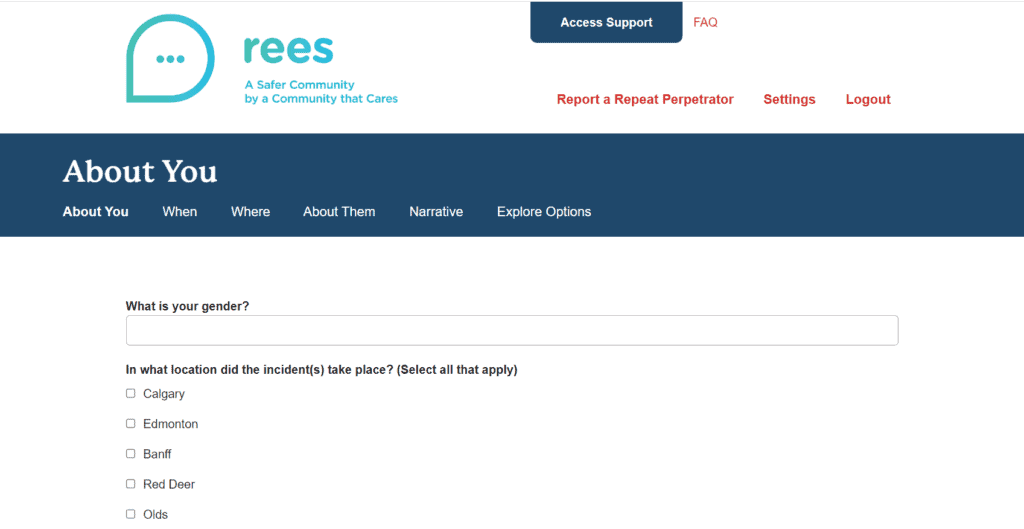 Why report? The anonymous reports will help the program partners to gather quantitative data on any incidents that are occurring in the tech ecosystem, identify patterns of concern, and use these insights to inform preventative efforts. 
To learn more, go to StartAlberta.ca/REES.