On October 11, 2023, Chloe Smith of Mercator AI was recognized with the Most Promising Founder Award as part of the 2023 Start Alberta Tech Awards. The Most Promising Founder is awarded to a founder recognized for their coachability, community involvement, and ability to launch a tech-focused company in Alberta.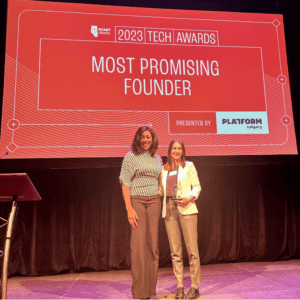 Chloe is the CEO and Co-Founder of Mercator AI, a real-time construction intelligence platform to help business developers identify early signals and leads by providing more visibility into early construction projects. 
In March of this year, Mercator AI raised a $5.1M CAD seed round. Chloe's strong business acumen has not only attracted top-tier investors but has also garnered significant positive media attention including in-depth coverage from Betakit, The Toronto Star, Canadian Business Journal, construction industry publications, dozens of podcasts, and more.
"We've had some fantastic milestones. This year, we raised $5 million at the start of the year, we've grown from five to 15 people and we've now reached product market fit," explains Chloe. 
Chloe's contributions to the Alberta tech ecosystem extend beyond leading Mercator AI. As a speaker and panellist at many events and conferences, Chloe advocates for women in tech and for changing the conversation around how women founders experience the startup journey. 
"My goal is to cultivate the next generation of smart entrepreneurs in Alberta and show that we can build strong healthy tech companies right here." she added. 
Keep track of Chloe Smith and Mercator AI in the Start Alberta database.  
The Most Promising Founder Award is generously sponsored by Platform Calgary. Platform Calgary is a non-profit, member-based organization that brings together the resources of Calgary's tech ecosystem to help startups launch and grow at every step of their journey, from ideation through to scale. 
Start Alberta is committed to helping the businesses and communities within our province's tech sector thrive and grow. Since 2018, the Start Alberta Tech Awards have recognized individuals and organizations for their contributions to Alberta's innovation ecosystem and those significantly impacting the province's tech sector. The Start Alberta Platform connects our province's innovation and tech ecosystem with data to help investors, entrepreneurs and policymakers with the insights needed to make their next, big move. 
View the full list of 2023 Tech Award winners.