Finding the best-fit talent and securing capital are defining success factors for startups and the Start Alberta database is designed to help. 
Tap into our database of more than 1,500 VC and startup professionals in Alberta and apply the search criteria that matter to you the most – from experience and education to the number of deals in their portfolio. 
Looking for investors? VCs and angel investors are using the database to search for their next deal. Get discovered with a complete, verified profile that includes your business model, income streams, industries and technologies. Plus, search for right-fit investors by stage or portfolio. 
Lots of the heavy lifting is done for you as our database is powered by AI and algorithms to gather data from public sources. But to ensure the data available is as current as possible,  startups can routinely review their data to ensure it's accurate and complete. 
Why does it matter? When the data is current and accurate,  Alberta attracts more talent, more capital and more policy and community support — and that's a big win for everyone. 
And an added bonus: your verified company could be profiled in Start Alberta's social media or our monthly newsletters as the next Featured Startup or listed in our job posting roundups. 
Take the first step: claim your company profile.
How to claim your company profile 
Start by logging in or creating a free account to claim your company. The steps below walk you through the process.
You have an account: how to claim your company 
Step 1: Go to ecosystem.startalberta.ca and login.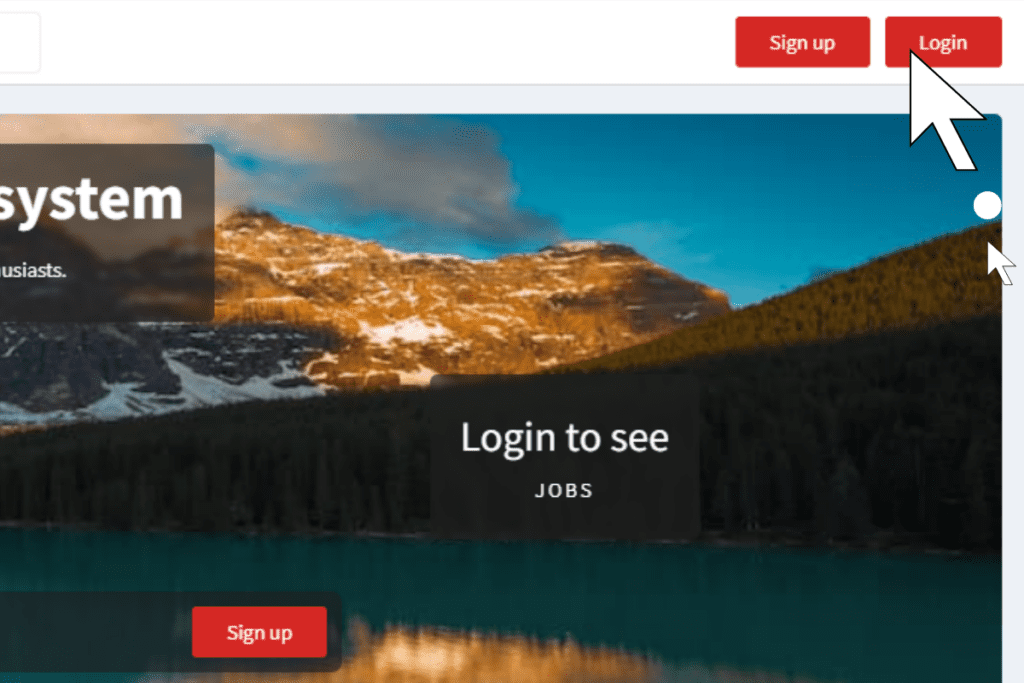 Step 2: Search for your company profile using the search bar at the top of the page. In this example, we're using The A100.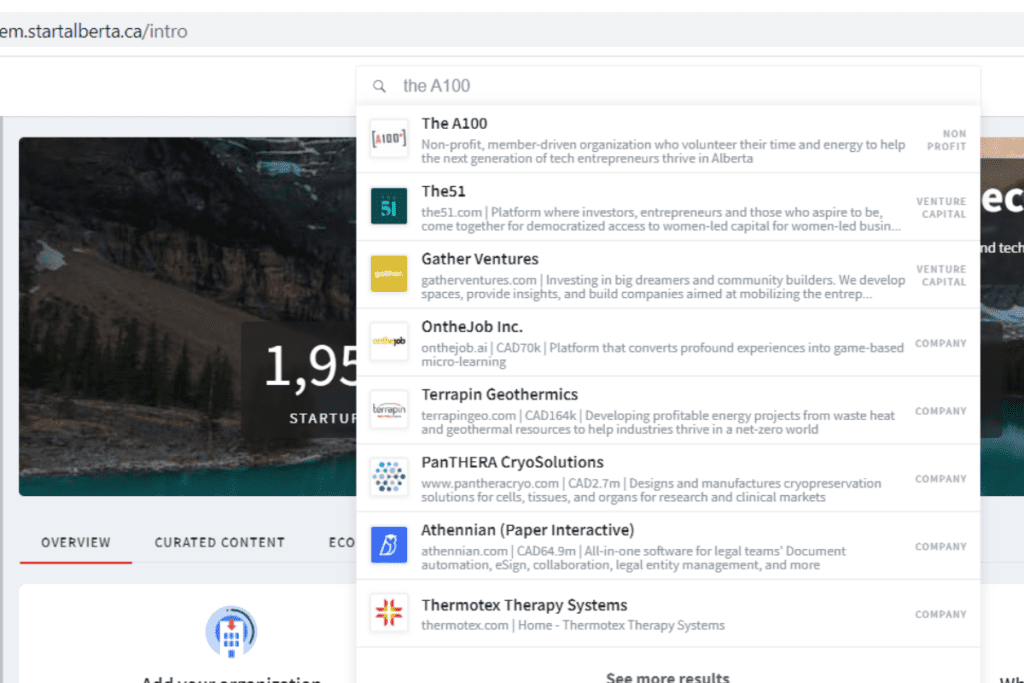 Step 3: Once in your company profile, click the edit button on the top right of the profile.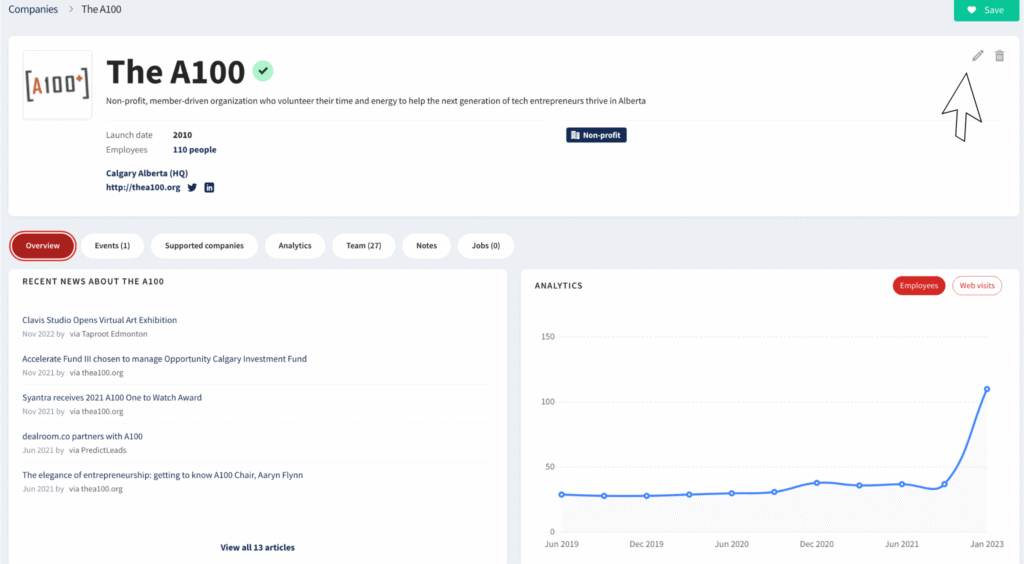 Go to the "Team" tab and then click "Add team member" button and add yourself or another existing user.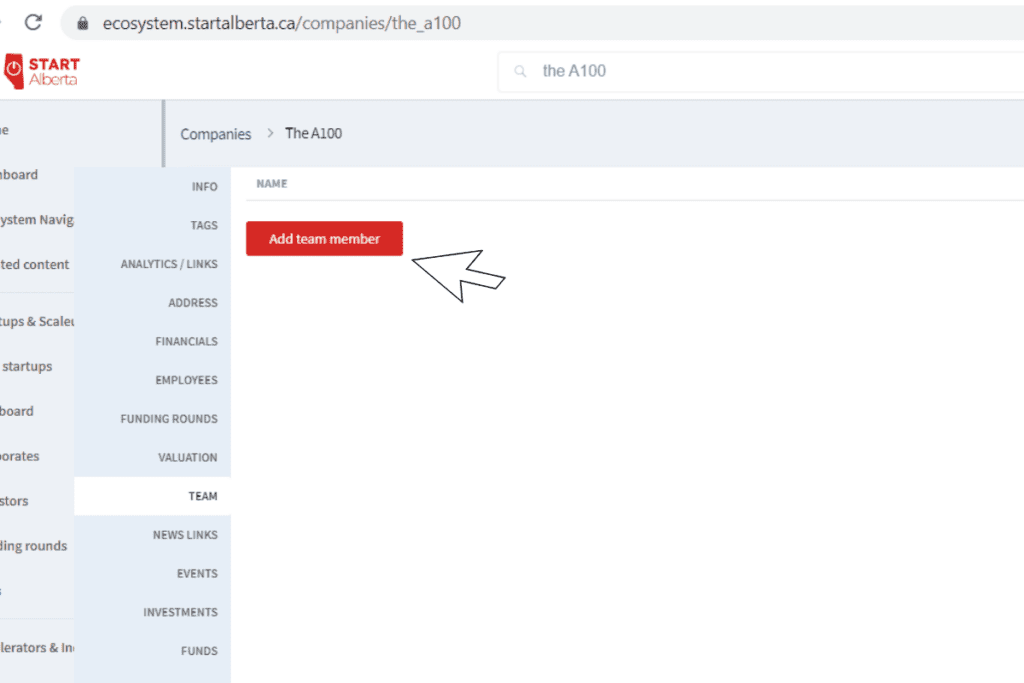 Alternatively, you can scroll down the team section on your company profile and click "Add my profile" button.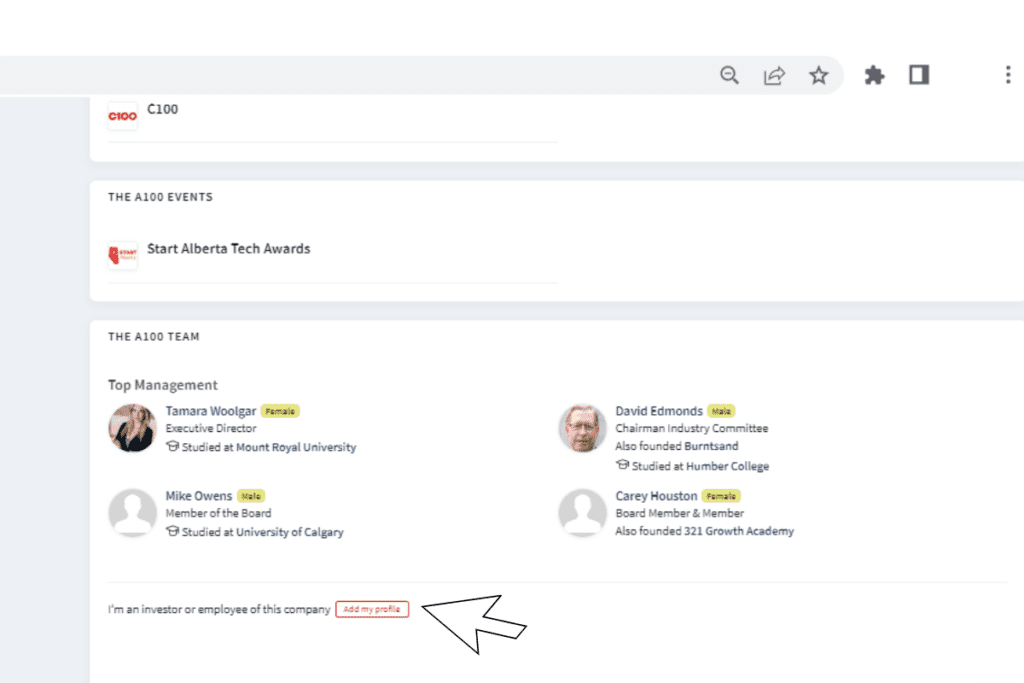 No account? How to sign up and claim your company
If you haven't created a free account yet, it only takes a few minutes. 
Step 1: Go to ecosystem.startalberta.ca and click on the 'signup' button in the top right corner.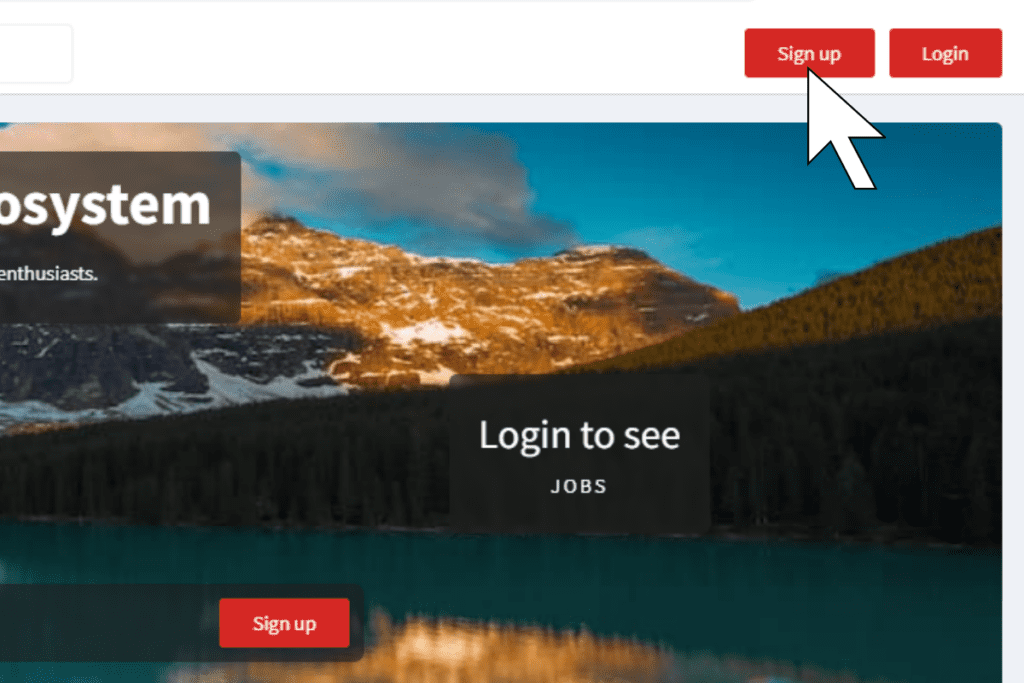 Step 2: Enter your business email address and set a password.
After creating your account, a verification email will be sent to your registered email address. Open the verification email and click on the link. 
Step 3: Complete your profile data including social links, location, education and more. You can also choose to self-identify your gender or ethnicity.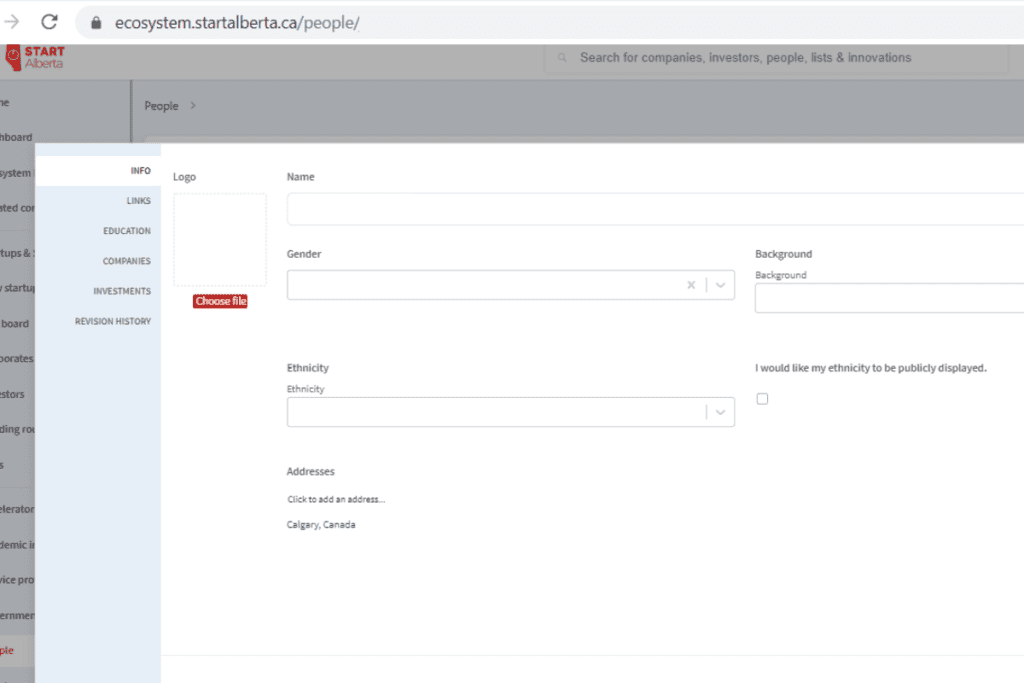 Step 4: Claim your company profile. Search for your company in the search bar and add your profile to the team section.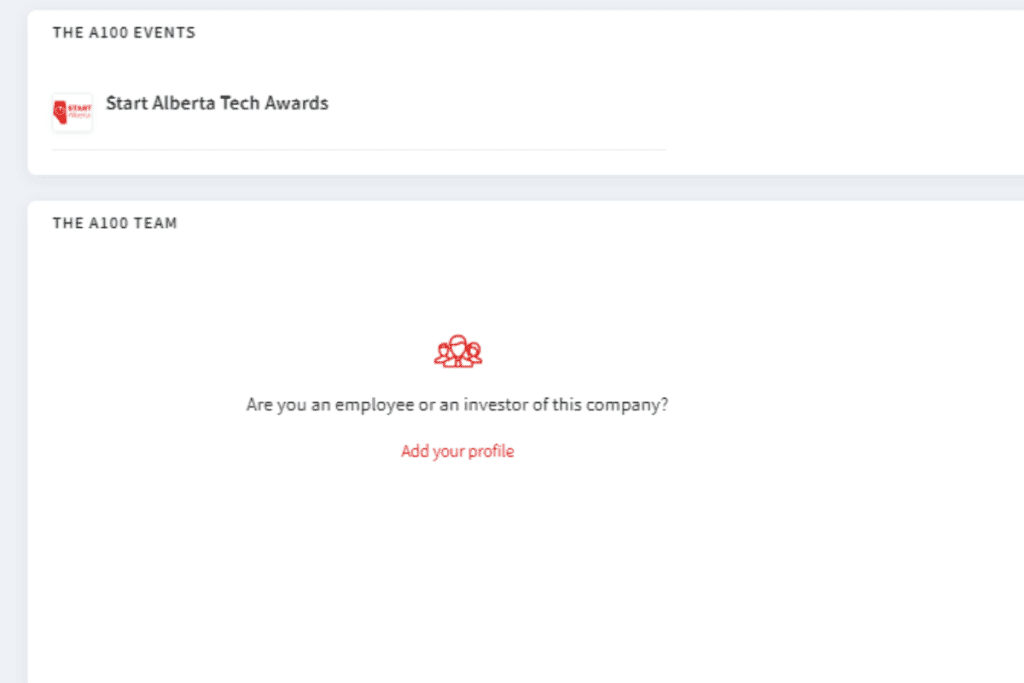 Now you're ready to explore the database 
Ready to search for investors and find top talent? Explore the Investors and People sections of the database. 
Be sure to follow Start Alberta on LinkedIn and Instagram where we share tips and tricks to use the database along with data-driven insights. Plus Dealroom offers an extensive knowledge base full of searchable answers and tutorials. 
Need additional help? Feel free to reach out to us at info@startalberta.ca 
Help us keep the Start Alberta database accurate
As your company grows, remember to routinely check and update your company data to put your best face forward to attract investors and talent. Thanks for doing your part to help ensure transparency and real-time visibility into Alberta's growing tech ecosystem.